FOSTER THE PEOPLE
Australian Tour July 2011
They're responsible for one of summer's most infectious hits: "Pumped Up Kicks", a contagious, dance-pop anthem DJs across the globe couldn't get enough of. Now, on the back of their highly anticipated debut album, Torches, Secret Sounds and Handsome Tours are pleased to announce the return of Los Angeles' FOSTER THE PEOPLE.
Formed in 2009 and with an unexpected hit on their hands months later, the trajectory of Mark Foster, Cubbie Fink and Mark Pontius is well earned. A native of Ohio, songwriter Foster met his bandmates after a move to California, the trio stunned to see their first offering – which their frontman wrote in just three hours while bored at work – earn 1.4+ million streams in mere weeks. "Pumped Up Kicks" was a runaway success, landing the #32 spot on triple j's Hottest 100. In January 2011 they released a self-titled EP, featuring new hits "Helena Beat" and "Houdini", while a sold-out east coast tour of Australia followed a month later.
"Our music makes you feel good – it's joyful," says Mark Foster. "I think people want to be taken out of their own circumstances and feel happy. But the lyrics have a depth that offsets that: it's not just cheesy pop."
"Accessible, yet challenging, gleaming yet gritty, pop yet petrifying: Foster The People are a fresh evolution of modern music." NME
Released through Sony Music, FOSTER THE PEOPLE's debut full-length, Torches, is set to be one of 2011's biggest releases. The band has collaborated with four of the biggest production names in music to capture their shimmering, electronic indie-pop: Paul Epworth (Florence & the Machine, Bloc Party), Rich Costey (Muse, The Mars Volta), Greg Kurstin (Bird and the Bee, Lily Allen) and Tony Hoffer (Belle & Sebastian, Depeche Mode). "They were all amazing," says Foster. "I think some of the colours that people haven't heard yet are our songs that have a tribal, hip-hop influence. Chemistry is different: I'm a producer too, so I wasn't scared of having four different visions."
"Mark Foster is a hugely talented enigmatic frontman who plays every instrument on stage … the depth of sound on show was levels beyond what you would expect from listening to "Pumped Up Kicks". A stellar performance – do not miss them next time." Fasterlouder, 2011
Head to the band's Twitter page (@fosterthepeople) to download an exclusive free remix of "Houdini", by international aesthetes Remix Artist Collective (RAC). With their slammin' Coachella stint fresh in their minds, Foster the People are set to deliver one of the hottest festival sets at this year's Splendour and On The Bright Side – and their clubs shows will be no different.
* "…Few acts without an album out can say, 'This song needs no introduction,' and get a roar of applause and a crowd singing every word of 'Pumped Up Kicks.' Oh, and no one left for Duran Duran – Foster's tent stayed packed to the hilt." *LA Times, Coachella review
Joining FOSTER THE PEOPLE will be Sydney's GUINEAFOWL whose EP "Hello Anxiety" was embraced in a great big bear hug by fans. Critics alike have hailed their infectious blend of anthemic indie pop music as ones to watch in 2011. Their bounding single "Botanist" landed them a spot in RAGE's top 50, whilst the shimmering triple j favourite "In Our Circles" was crowned 'Best Sydney Song' at this year's SMAC awards. Now with new single "Little Fingers" creeping to airwaves these shows are sure to be nights filled with indie hits that make you move.
With an arsenal of dancefloor hits up their sleeve, be sure to catch FOSTER THE PEOPLE when they return to Australia this July.
Tour Dates
The Metro Theatre
It's Over!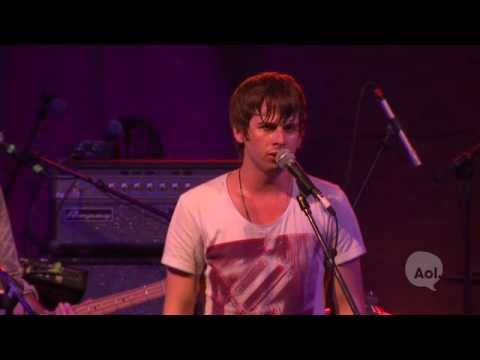 Filed under: Foster The People