KID KOALA PRESENTS THE SLEW
Australian Tour May 2010
In one of the most exciting collaborations to grace the stage in years, Canadian turntable masters Kid Koala and Dynomite D team up with former Wolfmother crew Chris Ross and Myles Heskett to create a psych/heavy-rock-drenched project The Slew.
Kid Koala proudly presents The Slew Live featuring a hefty six turntables with Chris and Myles from Wolfmother on bass and drums. Hitting up major capital cities across Australia in May, it's rock turntablism like you've never seen it before.
Four and a half years ago, Eric San (aka Kid Koala) and Dylan J. Frombach (aka Dynomite D) started working on a rock record. The pair, who met on the Beastie Boys tour in 1998, had been approached to soundtrack a documentary feature film. The film was eventually abandoned, but with Mario Caldato (longtime producer for Beastie Boys) on board for mixing, San and Frombach were already deep into the psych rock-influenced score and there was no turning back.
Teaming up with Chris Ross and Myles Heskett – the former rhythm section of Grammy Award-winning band Wolfmother – The Slew set out to put together a full-blown rock band experience to do justice to the material in a live setting. And justice was served: The truly excessive six turntables, drum, bass, keyboard and wall of amps that made their way across North America this October made for a full-on raw, pummeling rock experience. The Slew bring attitude back to the turntable unlike anything you've ever heard.
Tickets on sale Friday February 12. The Slew are also appearing at Groovin The Moo Festival nationally. Check www.groovinthemoo.com for more details
The Slew's album '100%' is out now through Ninja Tune/Inertia.
Dates Played
BRISBANE
When: Wed 05-05-10
Where: The Zoo
Special Guest:Seth Sentry
SYDNEY
When: Thu 06-05-10
Where: Metro Theatre
Special Guest:Seth Sentry and DJ James Dela Cruz
MELBOURNE
When: Wed 12-05-10
Where: The Corner Hotel
Special Guest:Seth Sentry and DJ Bonez
PERTH
When: Fri 14-05-10
Where: The Rosemount
Special Guest:Naik and Squidink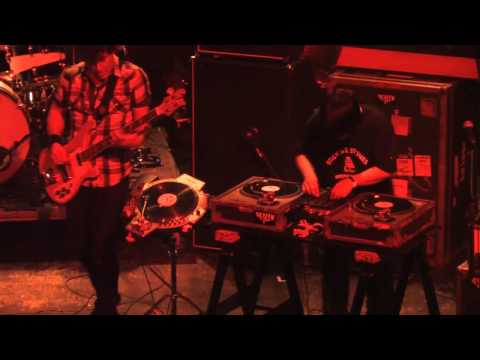 Filed under: Kid Koala