THE SHINS
Australian Tour - July 2012
Handsome Tours are Very Excited to announce the welcome return of their old friends THE SHINS to Australia this July. Armed with new material from their acclaimed fourth album Port Of Morrow, the band will perform at Splendour In The Grass, plus headline shows at Festival Hall in Melbourne and the Hordern Pavilion in Sydney.
SET TIMES
8pm – Husky
9pm – The Shins
Set times are applicable to both shows.
It's been a busy start to the year for the Portland based five piece, with the band currently in the midst of an extensive US tour to celebrate the release of Port Of Morrow. The album has been five years in the making, following on from their 2007 LP Wincing The Night Away, and was recorded throughout 2011 with band leader James Mercer handling all songwriting duties, lead vocals and the majority of instrumentation.
The Shins formed in 1996, when Mercer began writing what would eventually become the bands first record. Their first single 'Nature Bears A Vacuum' was released with no expectations, however it generated enough attention that at a performance supporting Modest Mouse in 2000, Sub Pop's Jonathan Poneman asked the band to contribute to the label's 'Single of the Month Club'. This relationship eventually extended to Sub Pop releasing the bands 2001 single 'New Slang', and their debut album Oh, Inverted World. It received critical acclaim for its lyrically deft and jangly pop sound, with several songs featuring prominently on the soundtrack for the 2004 film Garden State, exposing the music of The Shins to a much wider audience.
Their sophomore record Chutes Too Narrow was released in the fall of 2003 to much fanfare in indie music circles, exploring new genres, song structures, and levels of production fidelity. The band's third album, Wincing the Night Away, was recorded during 2006 by a largely solo Mercer. It debuted at number 2 in the US, the highest chart position Sub Pop has ever achieved. Port of Morrow was released in March 2012, having so far stemmed the singles 'Simple Song' and 'The Rifle's Spiral'.
This tour will mark The Shins' fifth visit to our shores since 2003. In fact, the band are so fond of Australia they named one of their pop gems after our fine country! Very special guests for both the Melbourne and Sydney shows will be the warm, harmony soaked sounds of Melbourne quartet Husky.
"Port of Morrow doesn't sound like it belongs to any particular decade or style, instead hopping around like some fully loaded AM radio dial that cranks out gem after gem." – Pitchfork
Tour Dates
Splendour In The Grass
It's Over!
Hordern Pavillion
It's Over!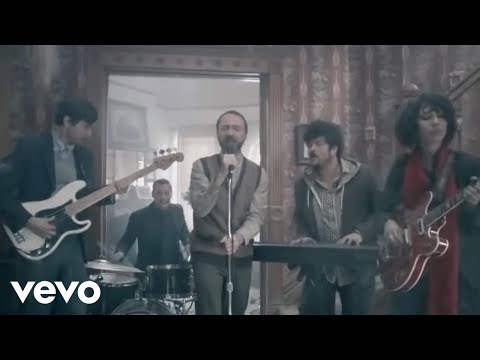 Filed under: The Shins