D.R.A.M. (CANCELLED)
Australian Tour Apr / May 2017
** D.R.A.M CANCELS AUSTRALIAN TOUR **
We are sad to announce that D.R.A.M is no longer able to tour Australia in May for Groovin The Moo. We regret any disappointment this may cause.
———-
Handsome Tours and Astral People are proud to present the Australian debut of D.R.A.M in April/May 2017 for Groovin The Moo Festival.
———-
Are you an avid snapper and keen to moove into a career of professional photography? GTM is looking for Australia's most promising photographers to be part of SHOOT THE MOO! The prize will include tickets for you and a friend to GTM and a once in a lifetime opportunity to shoot D.R.A.M. direct from the photographer's pit at your local Groovin the Moo. The lucky winners at each event will also score one on one time with GTM's official tour photographer to learn some tricks of the trade and a meet and greet with D.R.A.M. Head to http://shootthemoo.com to win!
———-
D.R.A.M. is just like the guy next door— if the guy next door could rap, sing, and make smash records. "I always had a boisterous personality," says the 28-year-old singer/songwriter. "Even when I was dead ass broke, I still found ways to have fun."
Born Shelley Massenburg-Smith in Germany to a military mom, D.R.A.M. (an acronym for Does Real Ass Music) and his family planted roots in Hampton, Virginia, where he was raised. Growing up, he hung around his older cousins and found inspiration in artists beyond his years, such as luminaries like Al Green and Parliament. "As a kid, I remember everyone in my family played older music, it just rubbed off. It was a blessing," he says.
When he hit his teens, D.R.A.M. was enamored by hip-hop and hit the mall every day after school to look for local rappers to challenge. "I was rapping just like Cassidy. He was my favorite rapper at that time," he recalls of the Philadelphia rapper. "It took a lot of growth, but I always knew that I was gonna make it as an artist. Over time my sound just developed."
The biggest development came when D.R.A.M. dropped his #1EPICSummer mixtape in 2014 and captivated fans with his break out hit "Cha Cha." The infectious Latin rhythm fully showcased his soulful singing voice, and penchant for crating catchy melodies. The world took notice, including Beyoncé who posted a video on Instagram of her dancing to the song.
"We put #1EPICSummer out on a whim, we didn't know how we were gonna make it work, but we knew we were gonna make it work," he says. "It was energy, the universe, the lord, all of that and timing."
Fast forward a year and D.R.A.M. has quit his job at retail chain, Best Buy, dropped the highly-favored follow-up EP Gahdamn!, hit the road on sold out tours with the likes of Chance The Rapper, and worked with the legendary Rick Rubin, who D.R.A.M. cites as his mentor.
Now with the release of his debut album Big Baby D.R.A.M., D.R.A.M. is more determined than ever to prove that he is here to stay. Heralded by the double platinum, Lil Yachty-assisted "Broccoli," which hit #1 on the Billboard "Top Rap Songs" chart, as well as #1 on the Rhythmic radio charts, Big Baby D.R.A.M. is filled with an assorted mix of soulful jams, laced with appearances from Erykah Badu and Young Thug, that are all tied together by D.R.A.M.'s magnetic personality.
The wildly fun anthem "Cash Machine" starts with a show tunes piano courtesy of producer Ricky Reed, before erupting into a joyous toast to the good life. "Cute" is a flirtatious boy-meets-girl story where D.R.A.M. remains charming and innocent singing "I chose you like a Pokémon." "WiFi" features the Erykah Badu and together they tackle the question that's on everyone's mind: What's the code to your WiFi? Then there's "Sweet VA Breeze," a love song to D.R.A.M.'s home state, which he recorded over three years ago. "That's my favorite one on the whole project," he admits. "No matter where you go, you'll be alright if you stay true to where you're from. I'm from Hampton, Virginia."
"I want to set my mark, and leave my mark. This is my intro, but I want it to stick and be one of the great ones," he says.
With each track, D.R.A.M. remains a relatable superstar that will captivate fans for years to come. "Through conversation if I can relate with other people why not portray that in my music as well," he says. "I just gotta be true to me."
Tour Dates
Groovin The Moo
It's Over!
Groovin The Moo
It's Over!
Townsville
Sun 30 Apr 2017
Groovin The Moo
It's Over!
Groovin The Moo
It's Over!
Groovin The Moo
It's Over!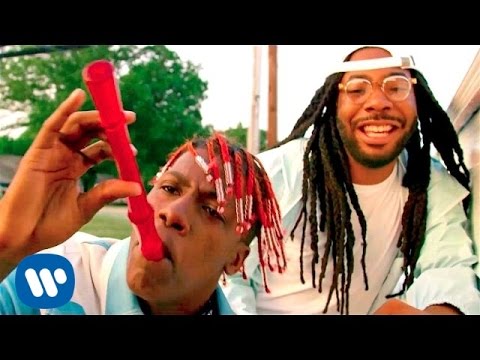 Filed under: D.R.A.M.