TEGAN & SARA (CANCELLED)
Australian Tour 2017 March 2017
**TEGAN & SARA CANCEL AUSTRALIAN TOUR ** 
We regret to announce that Tegan & Sara have been forced to cancel their upcoming Australian tour, due to illness.
Originally set to return to Australia next week for shows in Brisbane, Adelaide, Sydney and Melbourne, to promote their 8th studio album Love You To Death the Canadian duo were advised by their GP to postpone the tour, to lower the risk of long term damage.
'It is with the heaviest heart that I type this' says Tegan. 'I became very ill on the final days of our European tour in February, and even while taking antibiotics and steroids, I still lost my voice completely. After a second round of antibiotics and steroids upon returning home last week, I still have not recovered my voice or received a clean bill of health. At the recommendation of my GP, I have decided to postpone our Australian/New Zealand tour to continue my recovery and ensure I don't do longer-term damage to my singing voice and health.
It is a point of pride that we always follow through with our commitments, and in 17 years of touring I can count on one hand the number of shows we've had to cancel. I send our deep apologies to our fans, our team in Australia and New Zealand, as well as our promoters. To fans who have made travel plans and those who will be disappointed to hear this news, please know that we will be missing you all this coming week and promise to make it up to you soon. To our support acts – Theia, Bec Sandridge, and Montaigne – we are truly sorry to not be able to share the stage with you.
Best wishes to you all,
xoTegan (and Sara)
The news comes after an already massive year for Tegan & Sara, who have toured extensively throughout North America and Europe, released a brand new record and announced their own LGBT Foundation.
For refunds, please contact point of purchase.
**TEGAN & SARA CANCEL AUSTRALIAN TOUR ** 
***
Handsome Tours are proud to present the 2017 return of Canada's Tegan & Sara to Australia, after this year's sold out shows in Sydney, Melbourne and Splendour in the Grass.
Having slipped past Brisbane and Adelaide fans on their previous tour down under, the duo return to Australia, giving those cities their first live taste of their latest album Love You to Death. Sydney and Melbourne are also treated to return visits as Tegan & Sara visit Taronga and Melbourne Zoo.
Joining Tegan & Sara at The Tivoli in Brisbane and The Gov in Adelaide is Bec Sandridge. A nomadic pop/punk logomaniac, with a guitar swagger reminiscent of St. Vincent, and the delivery of new wave icons like Deborah Harry and David Byrne. Her most recent single 'High Tide' has landed high rotation on triple j and was a fan favourite on her recently wrapped Australian tours alongside The Rubens and Highasakite.
With a myriad of shows under her belt, including main support for Montaigne and Cub Sport on their national tours and numerous festival appearances,  Bec Sandridge is commanding and theatrical and possibly the most adorable person on social media.
Love You To Death is Tegan & Sara's 8th studio album and once again finds the group working with producer Greg Kurstin (Adele, Sia, Beck, Ellie Goulding) and includes their hit single Boyfriend.
Vulture exclaims 'Are there two greater pop songwriters walking this Earth than Tegan & Sara Quin? Not many. And oh baby, they're finally back with more synth-pop perfection." SPIN calls the track a "swirling, lushly synthesized confection (handclaps and a f**king killer chorus included),"and Rolling Stone proclaims "The synths beam and blare over thundering percussion, while Sara Quin belts the song's charmingly cheeky and lovestruck hook."
Tegan & Sara have been featured by Buzzfeed in a comprehensive document of the duo's journey over their 17-year career, from their early days to indie rock success, signing to a major label and performing at the Academy Awards, right up to recording Love You to Death. In the unprecedented music profile, Tegan discloses that the album is about "how debilitating and transformative" relationships can be, including those Tegan & Sara have with each other. The album is a product of their strengthened bond and of being more comfortable with who they truly are, and Buzzfeed identifies it as their "strongest, catchiest record to date."
Love You To Death is the follow up to Tegan and Sara's pop breakthrough album Heartthrob, which featured the singles Closer, which was certified gold in the US, and I Was A Fool. In addition to this, the band was featured on the LEGO Movie single Everything Is Awesome with The Lonely Island, and were invited to perform the song as part of the 2015 Oscar telecast. Born in Calgary, Alberta and now residing in Vancouver, BC, Tegan and Sara have won 3 Juno Awards, 2 Polaris Prize nominations and a Grammy nomination.
Tour Dates
Melbourne Zoo Twilight Series
It's Over!
Twilight At Taronga
It's Over!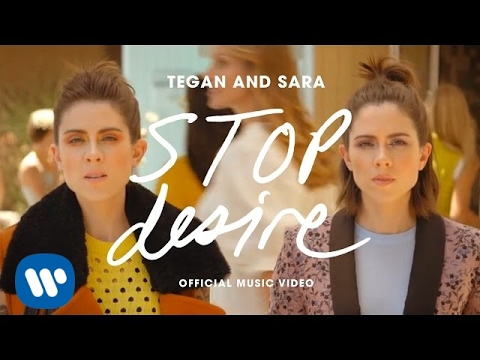 Filed under: Tegan & Sara